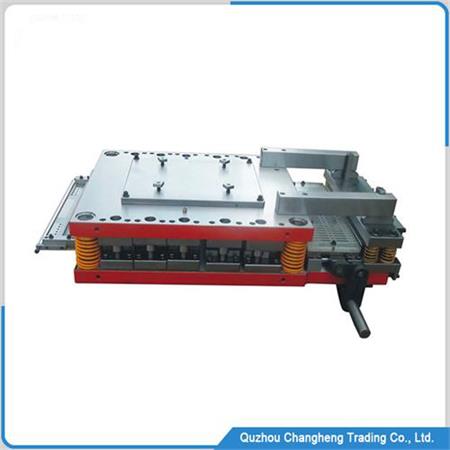 Vertical expander machine outline
The Heat exchanger Vertical expander machine adopts a vertical layout, and the equipment is composed of a base, guide post, oil cylinder, hydraulic station, workpiece clamping device, electric control box, etc.
A vertical tube expander is a kind of special equipment for processing fin heat exchangers.
Its working principle is to insert the expanding rod and expanding head into the copper tube of the heat exchanger through hydraulic transmission to make the copper tube plastic deform, so as to make the copper tube and fin contact closely.
The operating system of the Vertical expander machine is controlled by a touch screen, which has the advantages of a compact structure, intuitive and convenient operation, a high degree of automation, and long service life.
The expansion rod fixing device of the equipment adopts groove and retaining plate positioning, and the expansion rod adopts cylinder positioning. Its advantages are that the expansion rod is easy to load and unload, and the retaining plate ensures the unity and accuracy of the expansion rod in work.
The expansion rod and expansion head of the Vertical expander machine adopt advanced heat treatment methods, which makes the expansion rod not only have a certain hardness but also increase its willfulness, thus increasing its service life. The device adopts the door-type loading and unloading mode, which is easy to operate, reduces the manual labor of workers, and is a product that users can choose.
1. Equipment name: φ 9.52 vertical mechanical pipe expander
2. Equipment model: ch1200h
3. Workpiece fixing mode: opening and closing mode
4. Vertical expander machine Working dimensions
The dimension between end plates is min 200 mm; max 1200 mm
Number of columns × number of sections 6 columns × 40 holes
Column spacing × section spacing 25mm × 21.65mm
5. Equipment specifications
240 large expansion pipes
Large expansion thrust 30T
Expansion mode: once the expansion
Expansion speed
6. Vertical expander machine structure: Automatic adjustment of datum gauge (EL setting)
7. Standard accessories and spare parts
240 expansion bars (spring steel)
240 expansion heads (provided by users)
120 U-shaped seats
8. Workpiece fixture: Manual door closing: 100 mm × 3 groups; 200 mm × 4 groups
9. Hydraulic drive
ITEM
DATA
Common pressure
high-pressure value
140kg / cm2
Motor capacity
15kw
Tank capacity
200L
Oil number
R46 or R32
10. Air pressure capacity 4 ~ 6kg / cm2
11. Emergency stop button switch of safety circuit, with synchronous locking function
12. Overall dimension of equipment (about) W1000mm × L1200mm × h2500mm
13. Power supply: 380V ± 10%, 50 Hz
vertical expander machine details