The Radiator fin making machine is a machine specifically designed for producing radiator fins.
This fin machine plays a vital role in the manufacturing process of radiators for automobile and truck engines because it can produce fins for radiators,
as well as fins for condensers, intercoolers, and evaporators.
working principle
The working principle of a radiator fin machine is to roll metal foil into the desired fin shape through a high-speed rotating blade.
Machines typically have a series of rotating blade rollers, each corresponding to the shape of a radiator fin. When the metal foil material is placed on the machine to start production,
the blade roller will rotate at high speed and roll the foil material to form the shape we need
cutting system
We have equipped the machine with servo motors to precisely control the length of the fins,
ensuring that each fin produced by the machine has a high degree of consistency in size
The Radiator fin making machine that produces radiators for cars and trucks typically has advanced technology and more precise components to ensure that the produced fins meet strict quality standards.
The cutting system of machines usually has higher speed
and accuracy to ensure higher accuracy in the shape and size of the fins cut.
In addition, the control system of the machine is usually more precise to ensure that the produced radiator meets strict quality standards.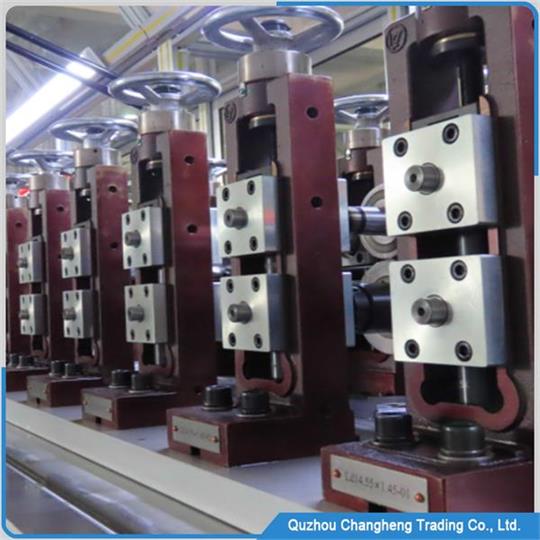 radiator fin making machine summary
In short, the fin-making machine is one of the important pieces of equipment for producing radiators for automobiles and trucks.
It can produce fins of various materials and shapes,
providing efficient heat dissipation performance for radiators to adapt to constantly changing market and customer needs.
Random parts
| | | |
| --- | --- | --- |
| ON. | NAME | SETS |
| 1 | instructions | 1 |
| 2 | Button switch | 3 |
| 3 | Special wrench | 1 |
| 4 | Cutting blade | 2 |
| 5 | Other files | 1 |
radiator fin making machine video