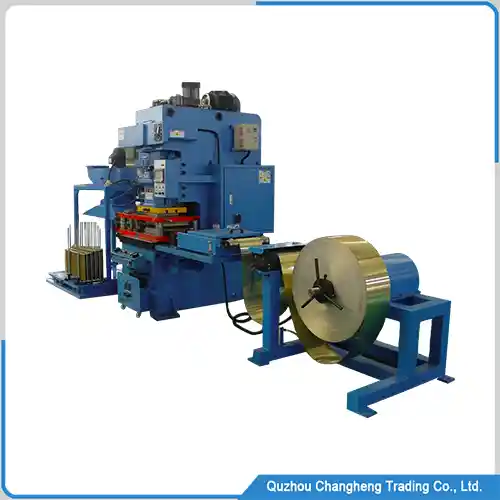 The aluminum Fin press machine, also known as a fin punch machine, is mechanical equipment used for the automatic production of heat exchanger fins. It is a highly automated machine that can achieve efficient, precise, and stable production.
In the heat exchanger manufacturing industry, fin punching machines are widely used to produce various shapes of fins, Such as condenser fins, heat exchanger fins, etc
The working principle of the fin punch is to use a high-speed rotating punch to punch the fin material to achieve the formation of the fins.
This machine can achieve 300 stamping times per minute. The fin press machine already includes two other parts: an uncoiler and a vacuum storage machine. The uncoiler is used to transport the fin material, while the vacuum storage machine is used to store and store the formed fins.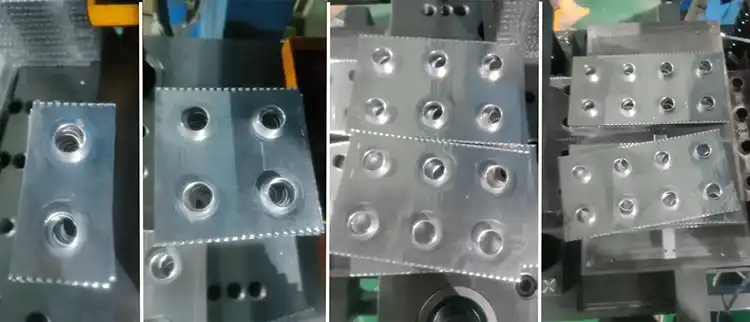 technical data
| | |
| --- | --- |
| ITEM | DATA |
| Capacity | 450 KN |
| Slide of Stroke | 40MM |
| Die Height | 200~270mm |
| Overall Dimensions | 650×250×233cm |
| Main Motor Power | 5.5kw |
| Size of Table(H×W×T) | 80×58×10cm |
| Sucking Length | 100cm |
| Stroke | 150~250 S. P. M |
fin die data
φ9.52-25*21.65 12 rows 1P
Φ9.52-25*21.65 12rows 2P
Φ12.7-31.75X*27.5 12Rows 1P
φ9.52-25.4*22 12rows 1P
φ15.88-38.1*33 6rows 1P
3/8-30*30 6rows 1P
Fin press machine apply
The automation level of the Fin press machine is very high, and it can achieve full automation production. The combination of fin punch and progressive die can complete the entire production process in one go.
Compared with traditional manual production, Fin press machines can significantly improve production efficiency, reduce production costs, and ensure product quality and stability.
In the heat exchanger manufacturing industry,
fin punch machines are widely used to meet the production needs of various fin shapes.
At the same time, the high-precision and high-speed production characteristics of the fin punch machine also provide a reliable guarantee for the production of heat exchangers,
Provided strong support for the high-quality development of the industry.
fin press machine video