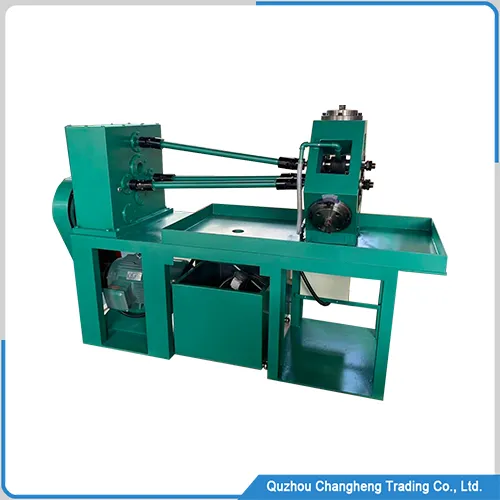 tube finning machine outline
This tube finning machine is suitable for producing two kinds of metal fin tubes with different diameters.
By replacing the blades of the extrusion roller, it can produce two types of metal fin tubes, as well as one type of metal fin tube.
Compared to the previous generation of machines, we have upgraded the structure of the extrusion roller, making it easier to replace the blade and improving the accuracy of the blade
To produce different pipe diameters, we have added a scale to the adjustment position of the machine. Now we can visually adjust the size, further improving work efficiency.
The tube finning machine has three rollers that simultaneously extrude aluminum material, all of which have power. A quincunx-shaped universal joint is used in the middle of the roller link to the rotating shaft, making the link more secure and almost without power loss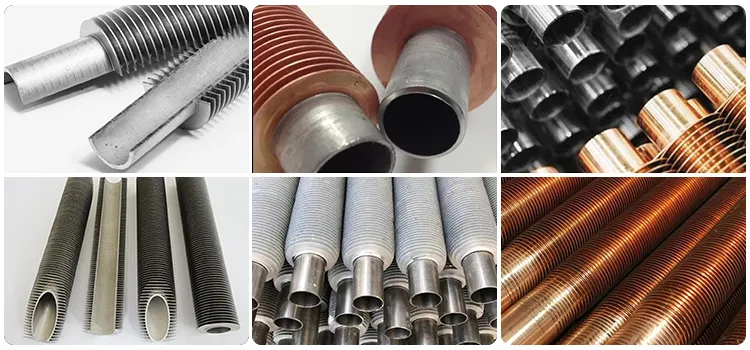 tube finning machine data
ITEM
VALUE
outer Fin thickness:
0.2-0.4mm
outer Fin material:
aluminum & copper
Base pipe size:
10-38mm, 8-51mm
Base pipe material:
SS304,
aluminum,
copper, alloy
delivery time:
60-65 days
MOQ:
1 PCS
outer Fin height:
<17mm
pipe outer diameter:
Φ20-85mm
Fin pitch:
0.6-10mm
pipe Max length:
<20m
Packaging:
wooden case
Power supply:
380/50-60hz
tube finning machine application
The high-efficiency heat conduction pipes produced by the tube finning machine are usually composed of a steel base and aluminum fins. It has a wide range of applications and can be used in various situations that require improved heat transfer, including but not limited to the following fields:
Textile industry: Steel aluminum extruded finning tubes are widely used in airflow drying, hot air circulation, carding machines, and other applications in the textile industry to improve heat transfer and drying efficiency.
Ships: finning tubes are also widely used in ships, such as in fuel combustion chambers, water tanks, evaporators, and other parts to improve thermal efficiency.
Chemical industry: extruded finned tubes have also been widely used in the chemical industry, such as in reactors, distillation towers, coolers, and other parts to improve heat transfer efficiency.
Food drying: Steel aluminum extruded finned tubes are also widely used in the field of food drying, such as in ovens, dryers, heat pumps, and other equipment to improve heat transfer and drying efficiency.
Home Furnishing: tube finning can also be used in fields such as HVAC and radiators in the home industry to improve heat transfer and indoor temperature regulation efficiency.
Our success stories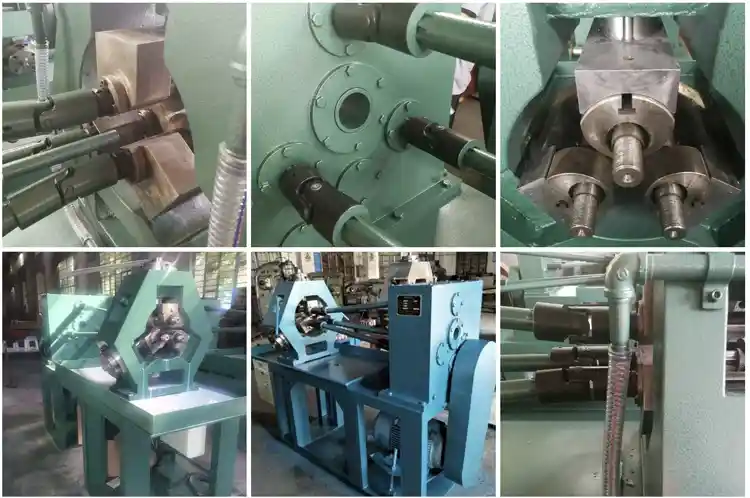 application area
Currently, this tube fin machine produces the most iron and aluminum pipes, because aluminum has a good heat dissipation effect and excellent pressure resistance to iron, The heat exchangers and condensers made of this type of pipe are widely used in the fields of petroleum and chemical industry, as well as in shipbuilding and large-scale industrial fields
fin tube machine video