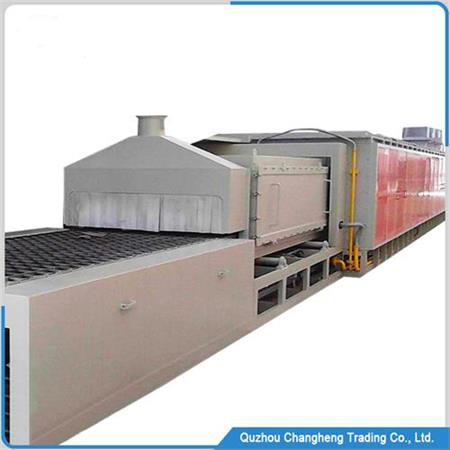 CAB furnace outline
The controlled atmosphere brazing furnace (CAB furnace) is a specialized equipment used for aluminum brazing, which can provide a constant temperature and atmosphere to ensure the effectiveness and stability of aluminum brazing.
Aluminum brazing is a process of connecting aluminum alloy parts into a whole, widely used in industries such as automobiles, aviation, and air conditioning.
The quality of aluminum brazing directly affects the performance and lifespan of the product, so it needs to be carried out under specific conditions
The main feature of CAB fuel is the use of nitrogen as a controllable atmosphere. Nitrogen is an inert gas that does not react chemically with aluminum alloys, nor does it cause oxidation or corrosion.
This provides an effective guarantee of product quality during the production process
Another advantage of a controlled atmosphere brazing furnace is that it can easily adjust the temperature, time, pressure,
and other parameters in the furnace according to different product and process requirements, achieving the best conditions for aluminum brazing.
ITEM
DATA
Touch screen
Delta
Controllable atmosphere
nitrogen
Heating energy
electricity
natural gas
(optional)
Production type
continuous production
Maximum temperature
750 ℃
External dimensions
1.8 * 2 * 30 meters
Production speed
0-1500mm
Technical Parameter
Application scope
CAB fuel has a wide range of applications, as it can produce aluminum radiators and condensers of various shapes and sizes,
mainly used in fields such as automobiles, air conditioning, and refrigeration. controlled atmosphere brazing furnaces can also be used for brazing other types of aluminum alloy parts, such as pipes, plates, tanks, etc.
The advantage of the CAB furnace lies in its ability to achieve efficient, energy-saving, environmentally friendly, and safe aluminum brazing production, meeting market demands, and standards.
controlled atmosphere brazing furnace
CAB furnace is usually composed of a degreasing zone, flux spraying zone, heating zone, preheating zone, brazing zone, cooling zone, etc.
Each zone has an independent temperature control system and airflow distribution system to ensure uniform temperature and atmosphere inside the controlled atmosphere brazing furnace.
degreasing zone:
Used for high-temperature cleaning of oil stains on the surface of aluminum products,
flux spraying zone:
Used to spray soldering flux on the surface of the product and the contact points of the parts, making the integrated welding process more efficient
heating zone:
It mainly dries the moisture on the surface of aluminum products to evenly distribute the brazing flux on the aluminum products
preheating zone:
It heats the entire product to 300 ℃, providing an effective basic temperature for the next step of aluminum brazing
brazing zone:
This is a critical process where all brazing work is completed,
and the entire brazing area is protected by nitrogen gas to avoid oxidation and unnecessary chemical reactions of aluminum products
cooling zone:
When the product brazing is completed, there is a lot of heat on the surface of the product,
which is discharged outdoors to maintain a suitable working environment in the workshop
controlled atmosphere brazing furnace video