We are a continuation brazing furnace manufacturer from China's top factory, This equipment is suitable for the continuous brazing of aluminum parts for automobiles, with non-corrosive flux under the protection of nitrogen.
The equipment produced by the CAB brazing furnace manufacturer is composed of the following parts
liquid nitrogen storage tank
brazing flux spray equipment
drying furnace
front chamber
continuation brazing furnace
water cooling system
air cooling system
transmission system
electrical control
air inlet exhaust pipes.

continuous aluminum brazing furnace characteristics
1. The surface of the spraying main body is passivated, with a beautiful appearance and good solder recovery effect, which can effectively prevent the solder from accumulating in the spraying room,
and is also very convenient to clean, and can effectively blow off the residual solder on the surface.
2. The design of the spray mixing system is humanized. The flux recovery bucket is equipped with impurity filtration, and the bucket body is designed as a deep bucket structure, which can effectively prevent the flux from overflowing due to mixing and resulting in waste of flux.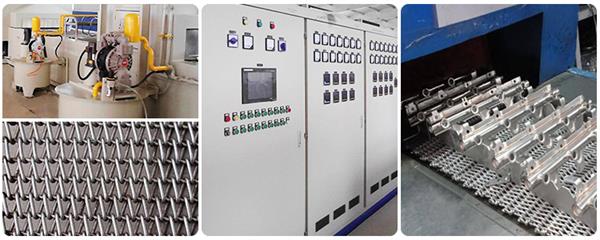 3. The slag cleaning chamber of the CAB brazing furnace is equipped with a nitrogen preheating system. Due to the high temperature of the slag cleaning room,
the flue gas waste heat recovery system can fully use the flue gas waste heat to preheat the combustion air, and the heat loss is small,
which indirectly reduces the energy consumption of the brazing furnace when heating nitrogen.
4. Energy-saving design, nitrogen loss is mainly at the inlet and outlet, and both sides of the furnace are more closely connected with the metal curtain, which will curl after long-term use, blocking the nitrogen overflow.
5. Fully automatic electrical control system. The PLC intelligent control system presets two undisturbed switching modes, manual and automatic, which can record the temperature curve of each area without error, and can control the continuation brazing furnace programmatically,
It is very convenient to set the heating time required for the protection of the furnace. The touch screen can monitor the faults of various lines, motors, temperature controllers, and frequency converters in real time and give an alarm in time.
Our continuation brazing furnace success stories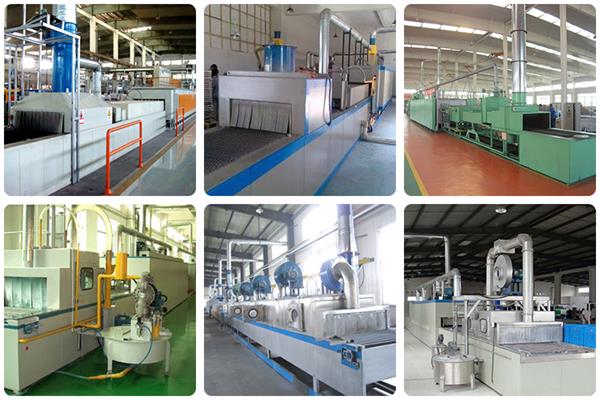 continuation brazing furnace manufacturer video