vacuum oven outline
The Vacuum brazing oven is an important production equipment for aluminum heat exchangers, mainly used for brazing aluminum fins, aluminum plates, and cores assembled together. These products are widely used in fields such as aviation, aerospace, petroleum, chemical, and energy.
Vacuum brazing furnaces play an important role in the welding process of these aluminum products. When using a vacuum brazing oven, aluminum heat sinks and aluminum tube sheets are placed on special supports and inside the furnace. These components are heated to a high-temperature state in the furnace, usually above 620 ° C.
During the heating process, the air between the aluminum heat sink and the aluminum tube sheet is extracted, creating a vacuum environment. In a vacuum environment, aluminum heat sinks and aluminum tube sheets can be welded together.
| | |
| --- | --- |
| ITEM | DATA |
| Place of Origin | Jiangsu China |
| Classification | Heating Equipment |
| Product name | vacuum Brazing oven |
| Max temperature | 750℃ (<2 hours) |
| Heating Rate | 0-20℃/min |
| Working temperature | 700℃ |
| Chamber size | Customised |
| Heating element | Fe-Mo-Cr spiral wire |
| Voltage | 380v 50 / 60Hz |
vacuum brazing oven Features
1. Operation Temperature: 700℃ (750℃ for short time).
2. Maximum energy efficiency is achieved by surrounding the chamber with thermal-efficient alumina fiber ceramic insulation.
3. Heavy duty double layer structure with the cooling fan. The lower temperature in the outer case.
4. PID automatic control via current limiting phase angle fired the resistor, e.g. SCR (Silicon Controlled Rectifier).
5. Power control with 12 segments programmable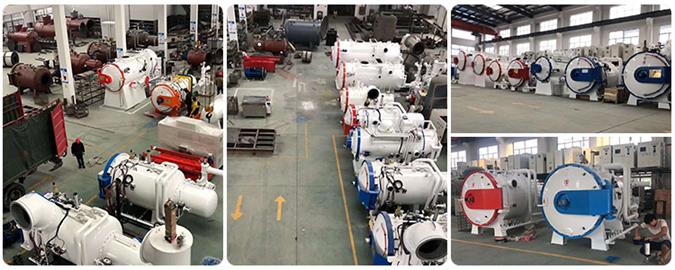 Advantages of vacuum brazing
1, Vacuum brazing significantly improves the corrosion resistance of products, avoids pollution caused by brazing flux and the cost of waste treatment, and has better safety production conditions.
2, Vacuum brazing can save expensive metal brazing flux and does not require complex cleaning processes, thereby reducing production costs.
3, The welding layer of vacuum brazing has better flowability, which can weld products with complex structures and narrow channels, thereby improving the product yield.
4, Compared with other welding methods, the internal structure of the Vacuum furnace has a longer service life, which can reduce the maintenance cost of the furnace.
5, Vacuum brazing is suitable for various materials, such as aluminum, aluminum alloys, copper, copper alloys, stainless steel, alloy steel, and low-carbon steel, among which aluminum and aluminum alloys are one of the most widely used materials.
vacuum brazing oven video
Q: What is the delivery time of your vacuum brazing oven
A: The delivery time of our vacuum furnaces is 95 days, and that of some customized vacuum furnaces is 120 days
Q: What is the size of your vacuum furnace chamber?
A: Our vacuum furnace chamber size is customized according to customer requirements
Q: What is your vacuum furnace package
A: Our vacuum packaging is wooden cases, and some large-sized furnaces are packed with plastic film, Because of the packing in wooden cases, it may not fit into containers smoothly
Q: What are your after-sales service personnel for vacuum furnace
A: Our after-sales service includes the installation of machines, technical training, and free delivery of easily damaged parts.