The hydraulic pipe expander machine is one of the indispensable and important equipment in the production of industrial heat exchangers,
and its performance directly affects the efficiency and quality of the entire production line.
Now, with the continuous progress of technology, the production of industrial heat exchangers cannot do without hydraulic pipeline expansion machines.
The hydraulic pipe expander equipment is mainly used to expand metal pipelines to the required size so that the fins of the heat exchanger core fins fit the pipes.
This type of equipment typically consists of a booster pump, pipelines, and control systems. The booster pump provides power, and the control system accurately controls the pressure to achieve the preset expansion size
hydraulic pipe expander Machine parameters
ITEM
DATA
Expansion medium
tap water
Power supply
220V/50-60hz
Usage power
24V
Pipe material
aluminum
copper
SS304
Pipe length
any size
Pipe diameter
customized
Machine packaging
wooden box
hydraulic pipe expander machine characteristics
1, Strong power
The hydraulic pipe expander equipment uses two booster pumps as the driving system, which can provide strong power to meet the expansion needs of pipelines of different sizes and raw materials.
2, Variable line spacing size
Losslessly changing the line spacing size of pipelines to adapt to different pipeline diameters and hole arrangement sizes
3, Pipe length
The length of the pipe is not limited, and there are various options for the pipe length of hydraulic pipe expanding machine
ranging from 0.5 meters to 10 meters, which can meet the requirements of different production lines.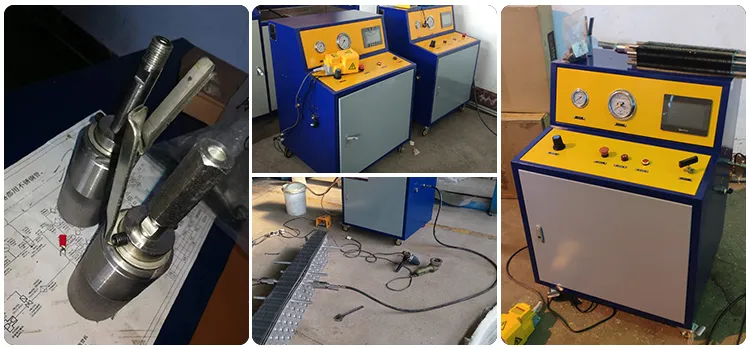 4, hydraulic pipe expander machine price
Compared to other types of expansion machines, hydraulic pipe expanding machines are more cost-effective and have high cost-effectiveness.
5, Material of pipes
Hydraulic pipeline expansion machines are suitable for the expansion of various materials of pipes or fittings, including aluminum, copper, stainless steel, etc.
6, Easy operation
The hydraulic pipe expander is equipped with an advanced touchscreen control system,
allowing users to easily control parameters such as line spacing size and expansion speed of the equipment through the touch screen. The machine can be easily operated without training.
7, Energy saving
The hydraulic pipe expander machine adopts advanced power electronic technology, which can operate with only 24V voltage, and has very energy-saving and environmentally friendly characteristics.