The used aluminum brazing furnace equipment uses non-corrosive NOCOLOK technology to continuously braze aluminum products in a nitrogen-protected environment. The equipment was manufactured in 2016 and appears 95% new in appearance. Due to poor factory management, the factory went bankrupt. The used aluminum brazing furnace is now urgently sold
technical parameter
Touch screen: 10.1 inches
Operating system: Windows7
Touch screen language: Chinese (can be changed to English)
Tunnel width: 1000mm
Tunnel height: 250mm
Conveyor belt material: ss304
Total length: approximately 48 meters
Degreasing furnace: already included
Brazing zone length: 12 meters
For more technical details, please contact us to request
Used aluminum brazing furnace production process
1, Place the product on the chain of the flux spraying area, and the machine will move the product to the spraying area, automatically completing all spraying work and moving the product to the next area
2, Some products require manual spraying of brazing flux, and this used brazing furnace has reserved a manual working area,
3, When all the flux is sprayed, the conveyor chain will transport the product to the drying area, which is fully automatic
4, Brazing area, This is a crucial area where some products need to be placed on the fixture to check if they meet the technical requirements for brazing and automatically enter the next step
5, When the product is welded, its temperature is very high. The main function here is to cool the product, which does not require manual intervention and the Used aluminum brazing furnace is fully automatic
6, When the product reaches the final stage, workers need to take it out of the brazing furnace and place it together
List of products that can be brazed
| | |
| --- | --- |
| Oil cooler | Tubular condenser. |
| Intercooler | Parallel flow condenser |
| Evaporator | Laminated evaporator |
| AC heaters | Aluminum heat exchanger |
| cooling plate | Cascade evaporator. |
| radiators | PC cooling |
Our brazing furnace success stories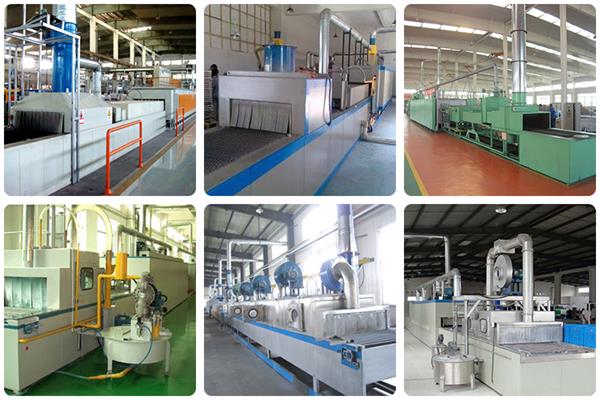 Used aluminum brazing furnace video
Q & A
Q: Is your brazing furnace new or used?
A: We currently have a used brazing furnace. Of course, we can also design a new brazing furnace for you
Q: Our factory produces aluminum radiators for automobiles. Can we use this condenser brazing furnace?
A: Yes, this brazing furnace can produce aluminum radiator, condenser, intercooler, heat exchanger, evaporator, etc
Q: How much nitrogen is used per hour in this brazing furnace?
A: 60-80 cubic meters of nitrogen per hour
Q: What kind of technical support do you provide?
A: If you purchase the brazing furnace, we will provide all technical support, train your engineers, install the brazing furnace, and provide after-sales service support