tube testing machine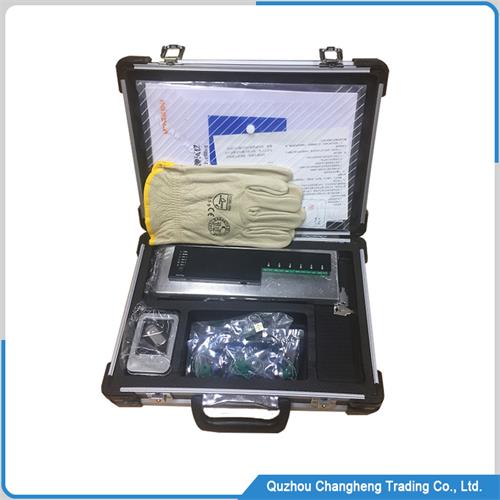 1. machine purpose
aluminum tube testing machine used for high-frequency welding cladding aluminum alloy tube pressure burst test. The aluminum tube tester is a multi-purpose type. On the basis of a set of pressure test systems, it can be used for flat tube, square tube, round tube, and radiator pressure tests only by changing the fixture.
2. Main technical parameters
tube size for pressure test:
Aluminum tube: diameter: φ 16~ φ 50mm,
Wall thickness: 0.6-2.5mm
Aluminum rectangular tube: long side 30-90mm, short side 3-40mm,
Wall thickness: 0.6-2.0 mm
Aluminum flat tube: long axis: 13-42mm
Short axis: 1.3-3mm,
Wall thickness: 0.25-0.45mm
Burst pressure: 50 MPa
Measurement accuracy: ≤ ± 0.5%FS
Medium: water/emulsion / hydraulic oil
Ambient temperature: room temperature
Number of jobs: 1
Length of test sample: 100-800mm
Control mode: computer control or manual control (optional)
Pressure test medium: water, emulsion, hydraulic oil
3. Working principle
The equipment mainly uses compressed air as the power source and a gas-liquid booster pump as the pressure source. The output pressure is realized by adjusting the driving gas pressure. The frequency of pressurization is controlled by the flow of input gas, so as to control the output flow of the system. The whole set of equipment is compact in structure, simple in operation, and can realize the function of computer automatic control.
4. Aluminum tube testing machine Characteristics
1. The equipment can realize the functions of explosion test, leakage test, and pressure test, the test pressure is step-less adjustable, and the pressure relief safety protection and automatic shutdown alarm.
2. The main devices are equipped with a pneumatic supercharger, which is a mature product of our company, and the output pressure can be easily adjusted and controlled. Use hydraulic pressure to tighten the sample and ensure its air tightness.
3. The pipeline system adopts a non welding connection with advanced technology and reasonable structure design. It has the characteristics of small volume, lightweight and beautiful appearance. The high-speed acquisition card (Ni) is used to collect the experimental data, and the software is written by LabVIEW.
4. During the test, the pressure can be compensated automatically; After the specimen is broken, the pressure drops rapidly and the system stops pressurizing automatically.
5. Realize the computer control function, which can freely set the water filling and exhaust time, pressure maintaining time, gas filling and cleaning time, and test pressure. In the test process, it can arbitrarily set single and multi-stage pressure maintaining tests, or it can directly explode after pressure maintenance. The pressure-boosting speed can be kept constant, and it can realize step-less adjustment. The test data and curve parameters are displayed in real-time, the test results are saved automatically, and the test reports are printed arbitrarily.
With years of technology accumulation, we have designed and manufactured air booster pumps, gas booster pumps, gas-liquid booster pumps, pneumatic booster equipment, blasting test benches, pressure detection equipment, oil-to-gas detection equipment, gas cylinder detection line, fluid transfer pump, and other products, which have been successfully applied in various industries and can also be applied in the field of explosion-proof.