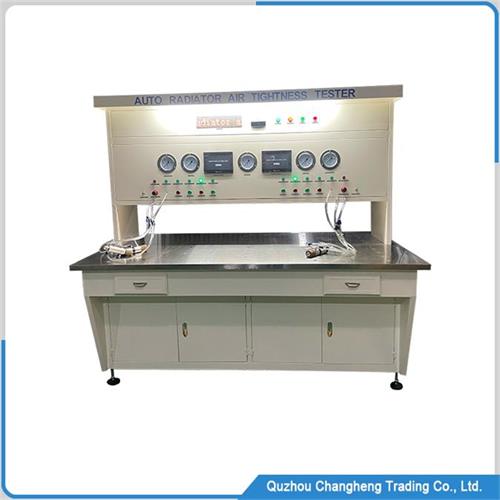 Product Description
This is a leak testing machine used for car radiators and heaters. It can be used to test any product by changing different fixtures. It is a table with a size of 2000*980*1800mm and two testing workstations installed. The desktop is made of SS304 material, which is very durable. The appearance of the entire machine adopts spray molding technology, and the color can be customized according to customer requirements
This device uses inflation time to control the workpiece. Whether your product is a truck radiator, an engineering vehicle radiator, or a small-sized heater, this leak testing machine can be easily applied without the need for costly tooling and fixtures
This machine has reserved a printer interface, which can print a label for each heat sink according to production needs, record product testing data, and provide effective traceability evidence for future quality issues
Leak Testing Machine Technical Parameters
ITEM
DATA
Test objects
radiators
heaters
other products
Max pressure
0.6 MPa
Test resolution
1 pa
Test workstation
2 pcs
Delivery time
60 days
Weight
450kg
Drive
Electric
compressed air
Control
PLC
Power supply
AC220/50Hz
Leak Testing Machine Features
Flexible replacement of cylinder rubber, suitable for various sizes of radiator outlets and inlets, this design can effectively save a lot of tool costs.
The material of the workbench is SS304 stainless steel, so there is no need to worry about rust and wear after long-term use.
This device has two workstations, which can double the production efficiency.
Set various testing parameters on the touch screen, which can effectively store 100000 test data.
This leak testing machine can be connected to a printer to print independent labels for each product. 6. It can be connected to a network to achieve the basic settings of Industry 4.0.
Support and Services
1, Installation and debugging: The equipment has undergone strict testing work in factories in China
2, Technical training: We provide free machine training services, and our engineers can provide on-site services no matter where you are
3, Sea freight service: We can deliver this testing machine to any location around the world
4, Vulnerable parts: Various easily damaged parts are provided for free, so you don't have any worries when using this machine
5, Color customization: You can choose any color you like, and we will not charge any additional cost
leak testing machine video
Q & A
Q: I have another plastic kettle. Can I use this machine to test for leaks?
A: Of course, this machine needs to be replaced with simple tools to test them.
Q: If the cavity of the product is large, how to test it?
A: Just set the inflation time to test large-sized products, and this leak testing machine can have a maximum inflation time of 999 seconds.
Q: Do you have any other machines for car radiators that come out with leak test machines?
A: Yes, we have all the manufacturing machines for car radiators. Contact our engineers for more details.