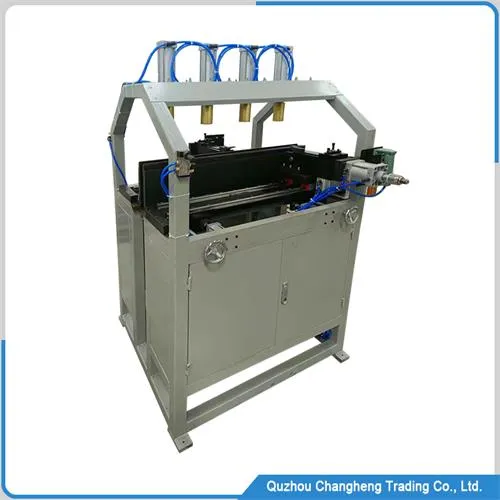 Equipment use
The radiator core assembly machine is used for the assembly of the Automobile radiator core and condenser core Intercooler core and oil cooler core. The whole machine works smoothly, assembly is quick, easy to operate, low energy consumption, and noise-free, the center distance of the flat core pipe is accurate, the heat dissipation belt is compact and even, and the core of the radiator is formed neatly and beautifully, and the assembly size is accurate, and it is easy to braze.
Technical Data
ITEM
DATA
Working Size
380-1200 mm
Fin width
16, 18, 20mm
24, 26, 32mm
fin hight
8mm
customized
tubes
80-100 pieces
Flat pipe width
16, 18, 20mm
24, 26, 32mm
Flat pipe thickness
1.5-3mm
Flat pipe spacing
4-15mm
applied range
radiator
condenser
Intercooler
this machine can assemble these cores
radiator core assembly machine outline
The Cooling core builder machine can be installed with any product with a spacing of 10 mm, or the expansion chain and the main piece positioning block, and any product with different spacing can be replaced. The parts required for the replacement of the product shall be ordered separately by the user.
Equipment power
Equipment power supply: two-phase 220V 50Hz
Working pressure of air pressure system: above 0.4-0.6MPa
Number of pieces assembled each time: 1 piece
Length of flat pipe: 350-800 mm; over 500-800mm
Number of flat pipes: within 60, more than 60
Specification of flat pipe: width: 20-32mm;
Number of layers: 1-2 layers (can be customized according to customer requirements)
Assembly accuracy: the difference in diagonal dimension is not more than 1.5mm
Total power: 5.5kw
Motor assembly time (Reference): 60s
Equipment weight: 1.8T
Equipment overall dimension (Reference): 2200 mm × 1800 mm × 1600 mm
Our success stories
radiator core assembly machine video
Q & A
Q: What color is this machine?
A: The color of this machine can be customized, and you can choose the color you like. The main parts of the machine are wrapped in a layer of nickel metal on the surface, which will not rust after long-term use
Q: What cores can this machine produce?
A: This machine can produce radiators, condensers, intercoolers, etc
Q: Can we customize machines driven by servo motors?
A: Of course, our latest generation machines use servo motors as the main drive, It runs smoothly, effectively improving production efficiency and product quality