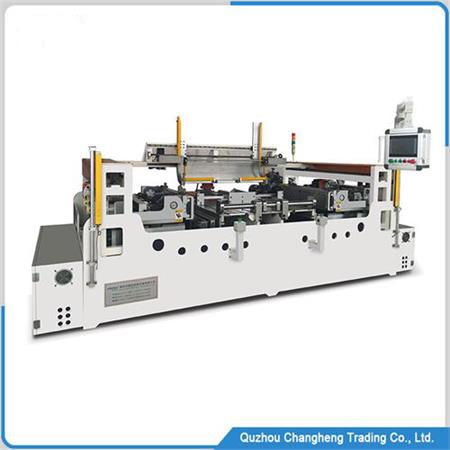 The Aluminum radiator machine is used to produce engine cooling products for trucks and cars,
Such as radiator, condenser, intercooler, evaporator, etc
The machine for producing car radiators requires multiple equipment components, the most important of which is the brazing furnace,
Next are fin machines and core assembly machines, etc, Next, we will introduce the details of each machine to you in detail
Radiator machine of brazing furnace
The brazing furnace is a type of equipment used for continuous welding, which mainly involves preheating, welding, and cooling each part of the radiator to form a solid joint.
Continuous brazing furnace usually consists of a heating system, control system, cooling system, track system, etc.
Among them, the heating system is the core part of a continuous brazing furnace, usually including a burner, heating coil, temperature control system, etc., used to control the heating temperature and time during the welding process.
The cooling system is used to quickly cool the welded joints during the welding process to ensure welding quality. The track system is used to smoothly move the radiator to the welding position and provide a stable welding platform.
Radiator machine of fin machine
The Radiator fin machine is a CNC machining equipment used for processing radiator fin-shaped fins. It is essential equipment in the production of radiator factories,
mainly by shaping fins into various shapes to meet the requirements of radiators,
In the field of automotive cooling products, the most widely used fin type is the louver type, which can increase some resistance to the wind and allow heat to be quickly carried away by the wind
With the development of industry, today's fin machines can achieve unmanned rapid production
core assembly machines
The radiator core assembly machine is a device used to assemble the core components of the radiator.
The radiator core assembly machine is usually driven by a cylinder and can quickly assemble the various parts of the radiator core together. The advantage of this machine is its competitive price. The disadvantage is that the degree of automation is average
After continuous updates of machines, nowadays machines usually use servo motors as the main drive, improving the quality of the radiator core and achieving an increase in production But the cost of core assembly machines has also increased accordingly
The advantage of servo motor-driven machines is that they can achieve efficient and high-precision assembly processes.
It can automatically complete the assembly of the radiator core, reducing the need for manual intervention, and improving production efficiency and product quality.
Other radiator machines
| | |
| --- | --- |
| ON. | NAME |
| 1 | liquid nitrogen tank |
| 2 | crimping machine |
| 3 | Packaging machine |
| 4 | Ultrasonic cleaning machine |
| 5 | Stamping machine |
| 6 | Air compressor |
| 7 | Sealing testing machine |
Whether you want a large OEM radiator factory or a small-scale after-sales radiator factory, we can provide you with suitable machines and top-notch technical services
Because we have been in this field for over 19 years, please feel free to contact us for more details