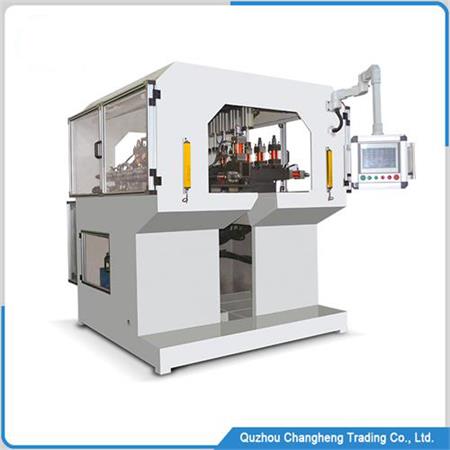 radiator crimping machine outline
This radiator crimping machine is mechanical equipment used in automotive radiator factories. Its main function is to press the radiator core and plastic tank together to form a complete radiator.
The machine is usually driven primarily by servo motors and assisted by cylinders. By programming a control program, the machine can automatically avoid obstacles during the operation
radiator crimping machine strong point
1, Automatic avoidance:
The radiator press installation machine adopts servo drive technology, which can achieve automatic avoidance, avoid production defects caused by machine vision errors and other factors, and improve product quality and production efficiency.
2, No additional cost required:
The radiator crimping machine can produce multiple radiator models at once, eliminating the need for additional mold costs and reducing production costs, Every machine is meticulously customized for users
3, Product consistency:
The machine adopts high-precision technology and automation control technology, which can ensure high consistency of product quality and improve product quality and reliability.
4, Silent production:
The radiator press installation machine uses compressed air as the main power, which can achieve silent production, reduce noise pollution, and improve the quality of the working environment.
5, Very cost-effective:
The price of the machine is relatively low, and its performance and quality are also very high, with high cost-effectiveness.
6, Servo motor drive:
The entire machine of radiator crimping machine is driven by two servo motors, which can achieve efficient and accurate operation, improve production efficiency, save electricity, and reduce costs.
Technical parameters
| | |
| --- | --- |
| ITEM | DATA |
| max height | 1000mm |
| max width | 850 mm |
| max thickness | 120mm |
| Touch Screen | DELTA |
| Packaging details | fumigated wooden box |
| Step length | adjustable |
| Model change time | about 10 min |
| Total power | 1.5kw |
| Voltage level | AC220V/50Hz |
| Equipment dimension | 190*180*220cm |
machine Part Brand
| | |
| --- | --- |
| part name | brand |
| Servo motor | Delta |
| Touch screen | Delta |
| Cylinder | Schneider |
| Pneumatic parts | Schneider |
| Screw | FUYU |
| Electrical Parts | DELIXI |
| Differential: | TLM |
| PLC | Mitsubishi |
| Button switch | Omron |
radiator crimping machine video
Q & A
Q: What radiators can this machine produce?
A: This machine can produce all passenger car radiators and 90% truck radiators.
Q: What language is the touch screen of this machine?
A: The language of its touch screen is English and Chinese.
Q: How long does it take to replace a new radiator model?
A: A factory skilled in operating this machine requires approximately 10 minutes to replace the model, New workers may take 30 minutes.