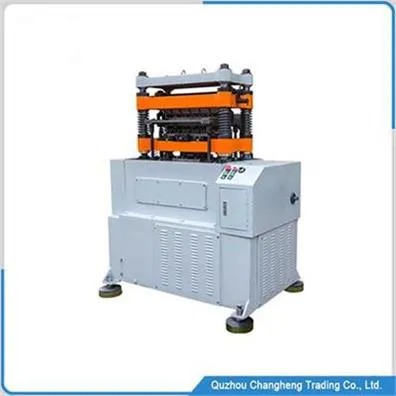 Machine features
This radiator fin machine manufacturer produces radiator louver wave-type fins, a Special automatic processing machine with roll forming, The machine is driven by a motor and cylinder together to realize automation in the production process, It has two working modes: automatic control and adjustment operation.
Automatic production mode of the machine, which realizes the automatic working cycle of automatic feeding, spray, rolling wave and window opening, wave separation and wave receiving, wave peak counting, output accumulation, and cutting;
By adjusting the production mode, each working link can be started separately, and the spindle inching button is set to facilitate the debugging of the machine tool. The motor of the machine adopts variable frequency speed regulation, with a wide range of speed regulation.
The cut-off wave number is controlled by the electronic counting of the servo worm system, with accurate counting and strong anti-interference ability.
The feeding system is equipped with a supporting device, which can rotate flexibly. It is also equipped with alarm protection systems such as belt breaking and winding, which can automatically stop in case of sudden failure.
The radiator fin machine manufacturer it's fin roller can be designed separately. Replacing the roller mold can realize the production of different types of aluminum fins and copper fins
This machine can produce radiator fins for cars, condenser fins for cars, and condenser fins for household air conditioners, Intercoolers, and industrial heat exchanger fins, It is widely used in shipbuilding, industry, automobile, motorcycle, and other fields
fin machine technical data
Overall dimension: 4650 * 700 * 1750mm
Foil material: aluminum & copper
Foil thickness: 0.05-0.15mm
Motor power: 2.2 KW
maximum Production speed: 0-120 m/min
Pressure: 0.6 M pa
Cutting speed: 60 times/min
Power supply: 380V/50Hz
Packing: wooden case
name: aluminum fin machine
Fin Machine Details
| | |
| --- | --- |
| ITEM | DATA |
| Touch screen size | 7 inches |
| Servo motor | 0.75kw |
| Cylinder brand | Hyde |
| Touch screen brand | Changhong |
| Motor brand | Delta |
| Lubricating oil | volatile oil |
radiator fin machine manufacturer video