electric motor production line synopsis
The electric motor production line, which has multiple workstations connected together, and a customized transmission system work together to achieve full automatic production
Production process: inserting the shaft
Install commutator as per > Rotor winding wire > Commutator spot welding > Fine-tuning of commutator > Dynamic balance detection > Insulation test > Performance test > Rear bush assembly > Armature printing code. Each armature is placed by an automatic swing disc
Advantages of production line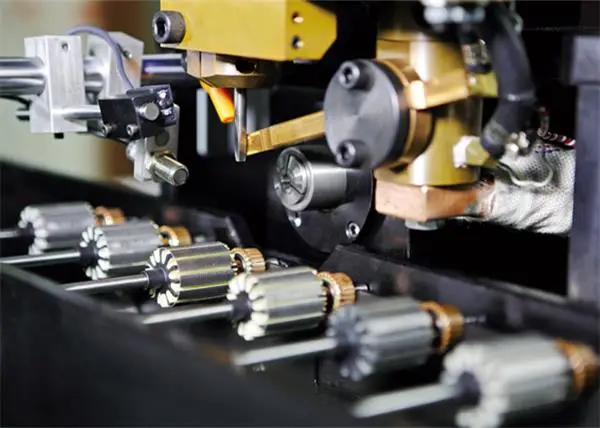 High-speed production
This production line can produce 300-350PCS motor armature per hour and Only one worker is needed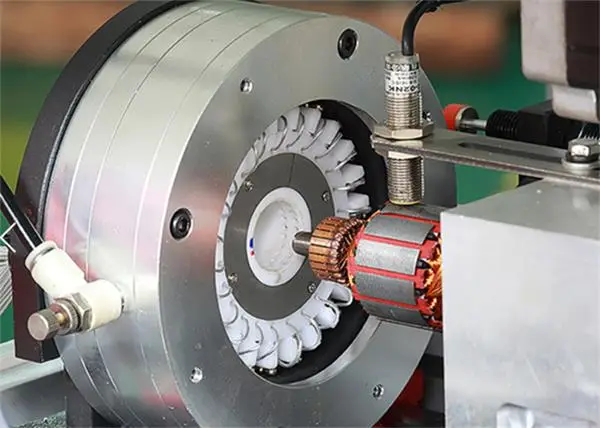 MES system
Intelligent production, Provides a basic guarantee for the factory to reduce costs and efficiently produce
electric motor production line MES system
MES system refers to the manufacturing execution system (MES). It is a set of production information management systems for workshop executive-level of manufacturing enterprises. MES can provide enterprises with management modules including manufacturing data management, planning and scheduling management, production scheduling management, inventory management, quality management, human resource management, work center/equipment management, tools and tooling management, procurement management, cost management, project kanban management, production process control, bottom data integration and analysis, upper data integration and decomposition, and create a solid, reliable, comprehensive A feasible manufacturing collaborative management platform.
Advantages of MES system
Optimize the production and manufacturing management mode of the enterprise, strengthen process management and control, and achieve the goal of refined management.
Strengthen the cooperative office capacity of all production departments, improve work efficiency and reduce production costs.
Improve the timeliness and accuracy of production data statistics and analysis, avoid human interference, and promote enterprise management standardization.
Provide effective and standardized management support for quality inspection of products, intermediate products, raw materials, etc.
Real-time control of planning, scheduling, quality, process, device operation, and other information, so that all relevant departments can find and solve problems in a timely manner.
Finally, the MES system can be used to establish a standardized production management information platform, so that the information between the internal field control layer and the management layer can be interconnected, so as to improve the core competitiveness of the enterprise.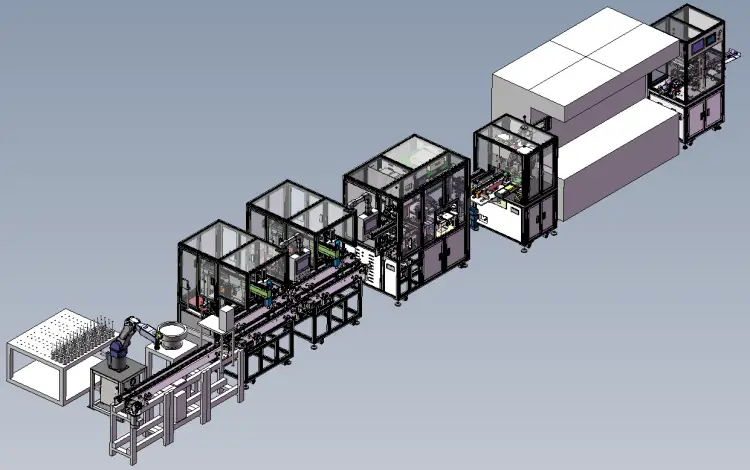 Our services
Q & A
Q: What is the package of the electric motor production line?
A: This production line is packed in wooden cases. Sometimes we also use clinker film packaging to directly fill a container
Q: Does this production line have a manipulator?
A: Yes, it has a customized manipulator that grabs each motor armature
Q: What is the delivery time of the electric motor production line?
A: Because this is a customized machine, the Motor armature size is different,
The delivery time is a little different, usually, our delivery time is 95 days,