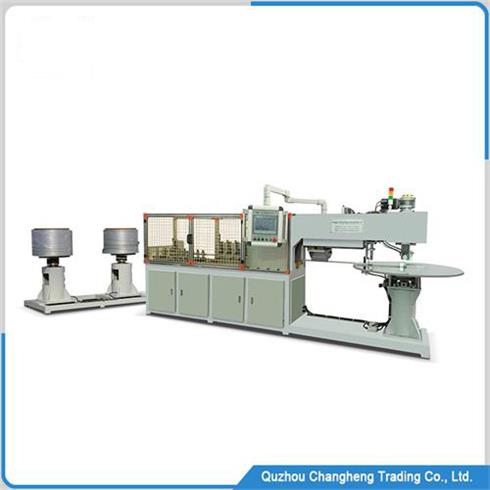 The pipe bending machine is a device specifically used for pipeline processing, whose main function is to bend copper or aluminum pipes into a hairpin shape. In the production of heat exchangers, pipe bending machines is one of the important equipment. With the development of industry and technological progress, a new type of fully automatic production heat exchanger pipe bending machine has been introduced
Working principle of pipe binding machine
The pipe bending machine is a fully automatic production heat exchanger copper pipe bending machine, which works by controlling the bending axis through a servo motor to achieve the automatic bending of copper pipes. The equipment mainly consists of a servo motor, a bending axis, a positioning system, a push-out axis, and a control system.
The servo motor is responsible for controlling the rotation of the bending axis and the accuracy of the positioning system. The bending axis is driven by a servo motor, and its rotational speed and size can be accurately controlled. The positioning system can ensure the accuracy of the position of the copper pipe to ensure the correct position of the bent copper pipe.
During normal production, workers only need to insert the pipes into the tools on the machine. This equipment will automatically run multiple steps to complete the bending of the pipes. In order to further increase production, we have designed multiple workstations for the machine, which can bend 4-8 pipes at once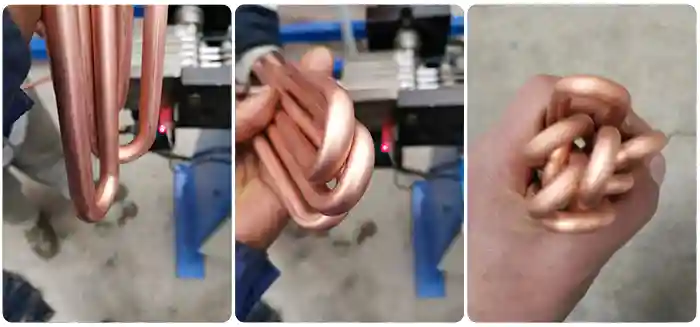 pipe bending machine Part Brand
part name
brand
PLC
Mitsubishi
Pneumatic accessories
SMC
Servo motor
Mitsubishi
Electrical accessories
Schneider
Omron
Touch screen
Delta
Advantages of pipe bending machine
1, High degree of automation
The tube bender machine adopts automated control technology, which can automatically complete the bending of copper pipes.
2, High precision
The bending axis of the pipe bending machine can accurately control the position and rotation angle of the copper pipe, thereby ensuring high accuracy of the bent copper pipe.
3, High production efficiency
The pipe bending machine adopts a design of multiple workstations and can bend multiple copper pipes at once. This means improving production efficiency and reducing production costs.
4, cost performance
Compared to other suppliers, our machine has a significant price advantage,
5, Energy saving
This tube bending machine uses a servo motor as the main drive, and the waiting time for the motor to stop running means that the machine has very power-saving hardware support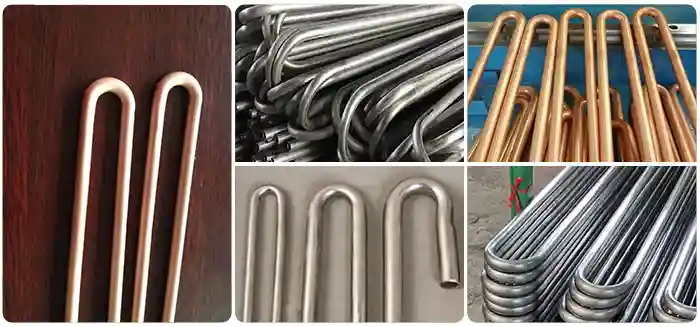 Technical Parameter
ITEM
VALUE
Pipe diameter
5-12.7mm
Wall thickness
0.2-0.5mm
Bending amount
8 pieces
Bending length
200-3000mm
Air source pressure
0.5~0.6Mpa
Pipe central moment
15-35mm
Bending speed
12 times/min
Bending type
U type
Power supply
380V/50Hz
3-phase
Total power
7.5 kW
Machine Video
Q & A
Q: What is the maximum length of the bending pipe of this machine?
A: The maximum length of this machine is 3000mm, and we can customize longer sizes.
Q: This machine can bend several pipes at once?
A: Our regular machine bends 4 pipes at a time, and we can customize the machine to bend 6 or 8 pipes.
Q: Does this machine have a touch screen?
A: Yes, this machine is controlled by PLC and has a touch screen.