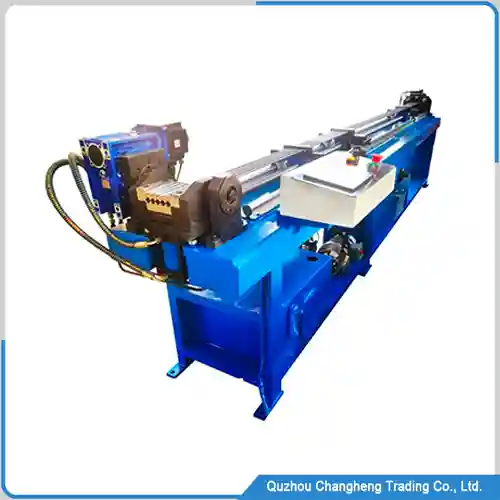 Hairpin bender machine outline
The Hairpin bender machine is a device suitable for use in heat exchanger factories, mainly used to bend copper coils into a U-shape. This type of machine is crucial for the production and quality of heat exchangers.
working principle
The working principle of the Hairpin bender machine is to manually feed the copper tube into the bending mold,
and the bending machine will bend the copper tube into the desired shape. Machines typically have multiple workstations and can bend multiple copper pipes at once.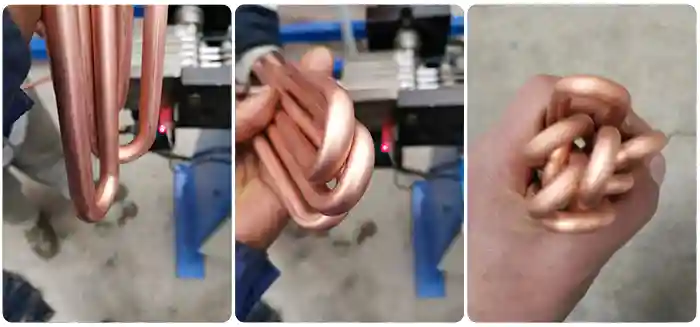 Technical parameters
ITEM
DATA
Copper pipe specification
OD5mm-OD12.7mm
Pipe wall thickness
0.25-0.5mm
Pipe length
200-3000mm
Maximum bending
8 pieces
Bending central moment
25.4mm
customizable size
Power supply
380V 3-phase 50Hz
Total power
10kw
Air source pressure
0.5~0.6Mpa
Hydraulic station pressure
4-6Mpa adjustable
Hairpin bending machine particulars
1, Hydraulic system
It is one of the key components of the Hairpin bender machine. It can provide sufficient force to bend copper pipes. Hydraulic systems typically consist of pumps, cylinders, control valves, and pressure gauges. This device is already equipped with a servo motor-driven hydraulic station, which achieves many advantages such as silent operation and power saving
2, electrical system
Electrical systems typically include components such as PLCs, controllers, sensors, and indicator lights. The function of the electrical system is to ensure the safety and reliability of the machine during operation.
3, Mechanical structure
It is the foundation of the Hairpin bender machine. The durability, flexibility, and operability of this machine have all reached the best level in the industry,
This device has a compact design and a small footprint, making it highly favored by customers
Hairpin bender machine video
Q & A
Q: Are you a trading company or a factory?
A: We are a professional machine supplier from China, We are the most professional supplier of production machines for radiators, condensers, heat exchangers, etc
Q: What is a servo motor hydraulic station?
A: Traditional hydraulic stations use ordinary motors, while our hydraulic stations use servo motors, The time the machine waits, it will stop running and Will not consume electricity
Q: This machine can bend several pipes simultaneously?
A: Our ordinary machine can bend 4 pipes, which is the most common, We accept customized machines with 6/8/12 pipes