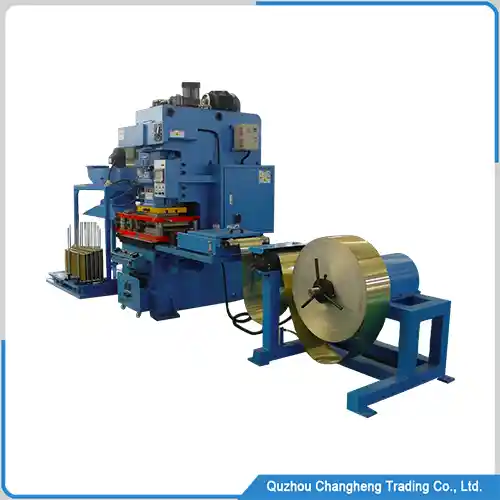 Finning Machine outline
Finning Machine is a machine that produces metal finned tubes, whose main function is to form a finned structure on the metal tubes. These tubes are usually used in radiators and heat exchangers, as well as in some industrial equipment.
The machine structure of the Finning Machine usually consists of three rotating spindles and a fixed base. Each spindle is equipped with a blade roller, which is usually composed of multiple blades with sharp edges. The metal tube is placed in the middle of three rotating spindles and then compressed and cut by rollers to form a fin like structure on the metal tube.
machine advantages
1, High production efficiency: This machine can produce a large number of pipes in a short period of time, thereby improving production efficiency.
2, High production accuracy: By precise processing to form a fin-like structure, the accuracy and quality of the pipes can be guaranteed.
3, Customizable: This equipment can be customized according to customer needs to produce pipes with special performance and structure.
4, Low production cost: A set of roller molds can produce various fin tubes of different diameters without the need for additional mold investment
5, Environmental protection: The production process of the Fin Machine does not generate waste, so it will not cause any pollution to the environment.
finning tube parameters
Item
Data
outside Fin material
copper
aluminum
tube material
copper
carbon steel
SS304
aluminum
alloy
fin thickness
0.1-0.4mm
tube diameter size
10-38mm
8-51mm
Fin height
< 17mm
Fin pitch
0.6-2mm
1.6-10mm
tube diameter
Φ25-88mm
tube length
< 20m
this finning machine can make these types
finning machine parameters
| | |
| --- | --- |
| ITEM | DATA |
| Machine colour | green |
| Packaging size | 145*75*150cm |
| Roller blades | 3 sets |
| Packaging | wooden box |
| Motor power | 11 & 22kw |
| Certificate | CE |
| Delivery time | 42 days |
tube finning machine video
Q & A
Q: What is the delivery time?
A: Our machines are in stock. If your machines need to be customized The delivery time of the tube finning machine is 42 days.
Q: Are you a trading company or a manufacturer?
A: Our machine is from the top tube finning machine manufacturer in China.
Q: What color is the appearance of your machine?
A: The color of our machine can be customized, and the default color is green.