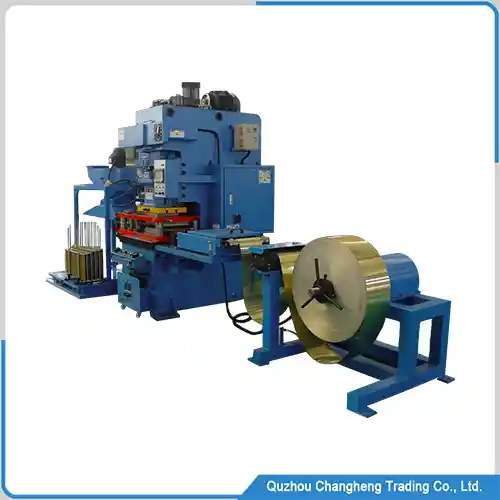 The Fin press die is a type of mold used for the high-speed production of large quantities of identical parts. It is usually composed of multiple independent small molds, which can achieve multiple different functions during one pressing process of the stamping machine, such as automatic feeding, opening, bending, cutting, etc
This type of fin press die has a wide range of applications, especially for industrial heat exchangers and commercial condensers. This mold can be flexibly arranged and combined to produce products of different sizes, and the maximum length can save a lot of money for factories
The raw material of the fin press mold is usually made of high-speed wear-resistant steel SKH51, which effectively ensures the quality of the product during long-term high-speed production
| | |
| --- | --- |
| name | size |
| hole diameter | 9.52mm |
| Line spacing | 22mm |
| Column spacing | 25.4mm |
| Hole array | 12 row |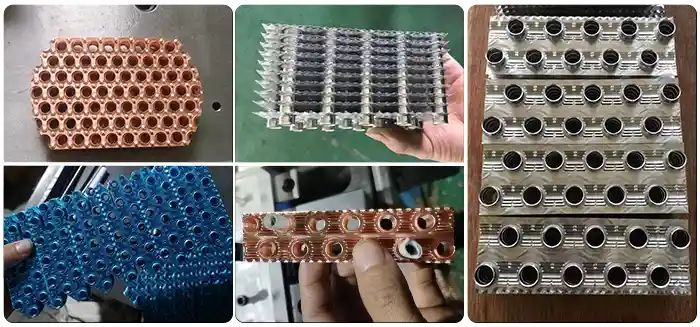 fin press die working principle
The working principle of the Fin press die is to install it on the stamping machine's workbench and put the metal parts into the middle of the mold to the desired shape and size.
This pressure can deform metal parts and achieve the desired shape and size. Fin press mold is usually composed of multiple independent units, including stretching, bending, cutting, feeding, and other devices. These units can be combined one by one to achieve continuous production.
In the continuous production process, raw metal materials enter the mold from the feeding device and are then pressed into the desired shape and size.
In this production process, each mold unit plays an important role in achieving rapid and continuous production. The production efficiency of the Fin press die is very high,
which can complete a large amount of production in a short time, thereby improving production efficiency.
Technical Data
ITEM
DATA
Raw materials



copper
aluminum
SS304
Mold brand
CHANGHENG
Appearance color
yellow
Working size
customized
Delivery time
65 days
Weight
680kg
fin press die advantage
The Fin die has high-precision production of each fin, allowing for rapid production while also maintaining high consistency of parts
A mold can accommodate various types and sizes of products, and it has excellent scalability
It is widely used in industrial heat exchangers and commercial condensers, and can perfectly meet the production requirements of modern factories, thereby improving product quality and reliability.
fin press machine video
Q & A
Q: What raw materials can this stamping mold produce?
A: This mold can produce aluminum foil, copper aluminum foil, stainless steel 304 and 201, titanium alloy, etc.
Q: Our aluminum fin hole is 12.88mm. Can this fin press die produce the fins I want?
A: Our mold is customized, and we can make it according to any size you want.
Q: Our stamping machine is old equipment from many years ago. Can we install this mold?
A: It would be best to provide our engineers with pictures of your stamping machine for inspection so that we can provide you with the best solution.