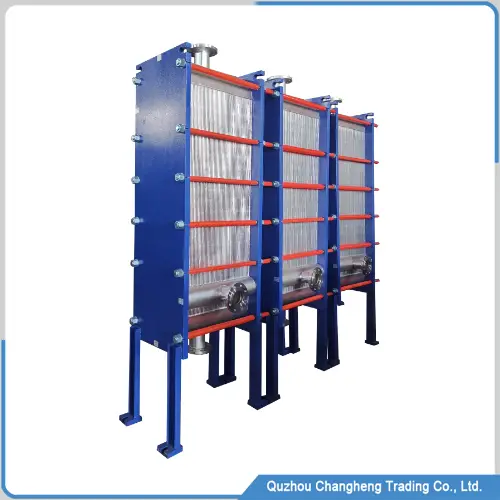 what is a flat plate heat exchanger?
This type of heat exchanger is mainly suitable for the industrial field. It is composed of corrugated flat plates, sealing rings, and frames. Usually, it has two intersecting channels, one for cooling liquid and the other for hot liquid. They each flow in their respective channels for cold and hot exchange work
This type of flat plate heat exchanger has many advantages, such as high heat transfer efficiency, good cost-effectiveness, easy cleaning of internal stains, etc. Therefore, it is used in many industrial fields, such as the pharmaceutical industry, petroleum refineries, thermal power plants, etc., and has a very wide range of applications
basic classification
Detachable plate heat exchanger
The structure of this flat plate heat exchanger is a superposition of corrugated plates, layer by layer. In the middle of the plates, there is a sealing gasket made of EPDM rubber, which is fixed with a frame to form a complete heat exchanger. Its advantage is that it can flexibly increase or reduce heat exchange efficiency. A plate produced by a mold can meet the needs of different customers
Welded plate heat exchanger
The structure of this type of heat exchanger is that the gaps between the plates are welded and fixed, and its advantage is that it can withstand higher working pressure. Usually, this type of heat exchanger is used in areas that require high pressure, but its price is also higher
flat plate heat exchanger data
| | |
| --- | --- |
| ITEM | DATA |
| Model | CH-HE01 |
| Active Area Per Plate | 0.1M2 |
| Plate thickness | 0..5mm |
| Nominal plate gap | 3.8mm |
| Port diameter | 50mm |
| Flow rate | 53M3/h |
| Connection diameter | DN50 |
| Max Work pressure | 1.6 mPa |
Installation precautions
The heat exchanger should not have deformation, and screws should not be loose or other mechanical damage.
The top of the heat exchanger has an O-ring for lifting. Please use it correctly to avoid unscientific operations that may damage the plates of the heat exchanger
Sufficient space should be reserved around the heat exchanger to facilitate easier maintenance in the future.
The installation of inlet and outlet pipes for cold and hot media should follow the instructions to link the pipes
It is best to use new pipes to connect the flat plate heat exchanger, If pipes are used, the inside of the pipes should be cleaned
The heat exchanger should have a maximum working pressure of 1.6 MPa. If the operating environment is greater than this pressure, the engineer should be informed
flat plate heat exchanger factory video
Q & A
Q: Do you have any heat exchangers in stock?
A: Our heat exchanger is out of stock, but we have a lot of plate parts in stock, and our fastest delivery time is 15 days.
Q: Can I purchase only the flat parts of the heat exchanger from your factory?
A: No problem, we also provide our flat plate parts to many heat exchanger factories around the world.
Q: What sizes of heat exchangers can your factory provide?
A: Our factory has many different sizes of flat plates and heat exchangers, You can contact our engineers to obtain our catalog.