aluminum finning machine of Industrial cooling system
industrial cooling system aluminum finning machine manufacturer for the oil-cooler is the key machine for processing radiators and condensers and intercoolers and oil cooler and Heat exchangers industrial cooling system
Special processing equipment for heat transfer fins. Compact heat exchanger products with such heat transfer fins have been widely used in automobiles, ships, air conditioners, compressors, engineering machinery, mining machinery, aviation, the military industry, and the hydraulic oil cooling industry.
aluminum finning machine production process
A wide aluminum foil is placed on the feeder in the form of a reel,
When the variable frequency feeding device is started, the uncoiler is pulled to rotate and unwind, and the tightening force of aluminum foil on the uncoiler is controlled by the magnetic particle brake,
During the unwinding process, the tension between the uncoiling coil and the feeding device is constant through the tension controller and PLC;
Then the aluminum foil passes through the tension control device controlled by the magnetic powder brake, and then is rolled and formed after being oiled and decontaminated;
The formed fins form the required fins after passing through the fin stacking device, wave pitch adjustment device, and automatic wave height detection device,
Fins are discharged by the peak setting cut-off device after passing through the buffer device and cut off after reaching the required peak number.
finning machine manufacturer factory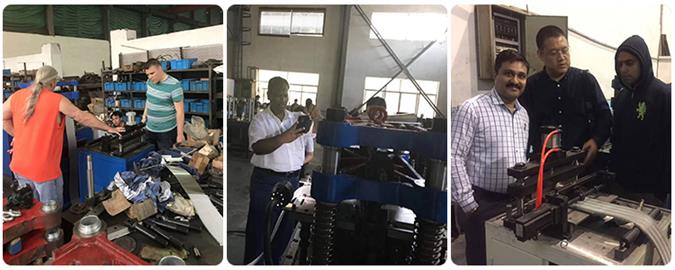 aluminum finning machine video
Q & A
Q: What is the delivery time of this fin machine?
A: Our delivery time of this fin machine is 45-55 days.
Q: What color is this machine?
A: The appearance color of this machine can be customized, and you can choose any color
Q: What is the control system of this fin machine?
A: This fin machine is a PLC control system.
Q: What is the packaging of this machine
A: This machine is packed in wooden cases
Q: How long does it take to replace the mold of this machine
A: It takes about 1-2 hours for the machine to replace the mold