fin press machine features
The aluminum fin press machine manufacturer It's from China, this equipment is the high-speed production line of air conditioning fins is a special production line for fins production in the refrigeration industry, It is composed of uncoiler, an oil tank, an open high-speed precision press, vacuum sucker, and aggregate device;
PLC electric centralized control system, encoder, Preset chip counting, chip counting, aggregate counting, and single and double jump functions to meet the requirements of a high-speed production line; The main machine is equipped with hydraulic overload protection and mold height electric adjustment device, The thin oil automatic circulating lubrication system has the oil circuit alarm function.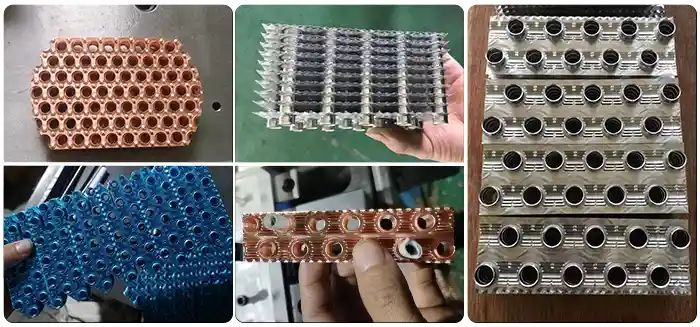 aluminum fin press machine data
No.
ITEM
DATA
1
Nominal force
45T
2
Stroke
25/30/35/40
3
Number of strokes
200-800 S.P.M
200-700 S.P.M
200-600 S.P.M
200-500 S.P.M
4
Closing height
213-243 mm
210-240 mm
208-238 mm
205-235 mm
5
Slider area
420*320mm
6
Adjustment amount
30mm
7
Main motor
7.5HP
8
Total weight
4.8 tons
9
Blanking hole
100*400 mm
100*500 mm
10
Fixed-point stop
standard
11
Clutch and brake
Air & Friction
aluminum fin press machine maintenance
Keep the center column and sliding block guide column clean frequently, and keep the mold base plate free of dirt when erecting the mold, so as to ensure that the platform is clean and avoid scratches.  
When the new machine is used for one month, add grease to the flywheel (including the feeder). If there is no oil for a long time, it will cause internal wear on the flywheel and affect the performance of the machine tool,
Replacement of machine circulating oil: the new machine shall be replaced once within one month, and then every six months to ensure the normal operation and precision of the machine tool (32 # machine oil or Mobil 1405 #)
Our success stories
fin production line video
Q & A
Q: What is your machine's stamping force?
A: This machine has a 45-ton punching force and can produce 300 times per minute. It can only be made on the first floor, so your factory floor needs to be strengthened.
Q: What kind of technical support do you provide
A: We are an aluminum fin press machine manufacturer, we provide all technical support
Q: What is the fin punching line's packaging like?
A: Wooden cases are used to store our machines. We pack the machines lying down in order to easily load them into containers.