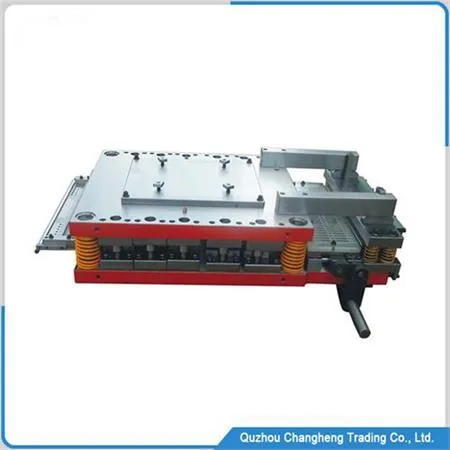 fin punching die outline
This is a fully automatic and continuous production fin punching die, which is the key mold for making aluminum or copper fins of tube and shell heat exchangers, It is composed of multiple independent small molds combined to form a complete automatic mold, This type of mold has many advantages, such as adaptability to high-speed production, ultra-long service life, and simple combination arrangement to produce different sizes
Due to the many sizes of the diameters of tube and shell heat exchangers in industrial applications, in order to meet the multiple application scenarios in the market, we have designed a quick installation device for arc cutters for fin punching die. In production, fins of different sizes can be produced by simply replacing the cutters, which can save a lot of money for factories
Technical Parameter
| | |
| --- | --- |
| ITEM | DATA |
| TUBE SIZE | φ16.3MM |
| FIN TYPE | CORRUGATED |
| HOLE ROWS | 10 ROWS |
| TUBE SPACING | 21 MM |
| ROW SPACING | 21 MM |
| FINS PER INCH | 6 to 14 |
fin punching die advantage
1. The width and length of the fins can be freely changed without changing the spacing and diameter of the holes. One mold can produce multiple products, which saves a lot of money for the factory
2. This fin-punching die uses high-quality materials, and the key parts have undergone vacuum quenching to a hardness of 62. Its service life is very long
3. Our engineers have an average working age of over 16 years. Our mold design is reasonable, compact, and aesthetically pleasing, making it perfect for various stamping machines
4. Each key component is manufactured by our own factory, effectively controlling the quality of the mold and providing effective guarantees for rapid delivery
fin punching die factory video
Mold raw materials
| | |
| --- | --- |
| Part Name | material |
| Mold plate | ENC45 |
| Punching needle | SKH51 |
| spring | 50CrVA |
| Guide rod | 20Cr |
| Small guide rod | SUJ2 |
| Cutting knife | Cr12MoV |
Q & A
Q: What is the diameter of the arc cutter for this fin-punching die?
A: We designed this cutoff based on your product.
Q: What type of stamping machine can be used for this fin mold?
A: We can design this mold based on your stamping machine so that it can be installed smoothly on your stamping machine.
Q: When will the mold manufacturing be completed and will you provide fin samples?
A: Of course, We can provide fin samples, but you will need to pay the FedEx fee.